We are Anatolian Stones company, we supply blue chalcedony from thousands of hactare mine area located in west Turkey. We are online since year 2004 to help rough stone buyers especially on blue chalcedony, our aim is to supply quality blue chalcedony at regular basis.
We supply also another rough stones such as dendrite agate, white opal, druzy chalcedony, agate, obsidian
We supply the World. Whether factory, artist, dealer, or collector, we can fill your needs. If you are interested by ton or kilo it is available here !
Chalcedony, of any color, is named for the ancient seaport of Chalcedon (now Kadikoy). It has a long history in jewelry. Archaeologists have dug up Babylonian and Assyrian chalcedony cylinder-seals dating from 2500 to 500BC
Click here to buy 1LB high quality nodular blue chalcedony
Click here for latest 3 ton wholesale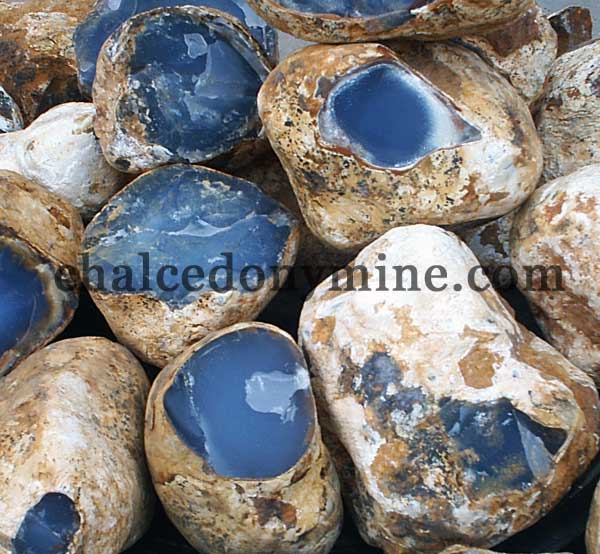 Big and flawless nodules available look like below for processing to make carving and bangles
Satisfaction is Always Guaranteed From Direct Mine source
We are supplying premium quality 100% natural rough blue nodule chalcedony with regular supply. Our chalcedony rough is no less than 75% clean, in fact it is usually 90% clean or better for A , and you can get after cutting them very clean, eye clean , no inclusions or flawless stone.
Custom Requests
We will gladly assist you in selecting a specific size , color or concept pattern chalcedony from our mine. Just let us know what you are looking for.